Boston Pizza Operation Education Fundraiser
Operation Education is a co-operative fundraising initiative that partners local school with Boston Pizza.
Staff, students and families can dine at any Northern Alberta Boston Pizza
and help their school earn 5% cash back on the pre-tax total of submitted receipts.


1.  Eat at Boston Pizza between January 1, 2018 and June 30, 2018
2.  Save your receipts
3.  Submit your receipts to Norwood School by July 10, 2018
THANK YOU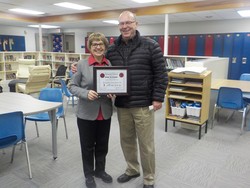 A big THANK YOU to Mr. Don McNabb for
the generous contribution to the
Norwood School Library
in memory of Cathy Compton.
Cathy Compton, was an educator in the Wetaskiwin School District 
for many years.
As a teacher she was a compass that activated the
magnets of curiosity, knowledge, and wisdom in her pupils.
Norwood School has been the recipient of $2,000 each year,
since 2010!
Queen Elizabeth Fine Arts Night
Featuring Grade 7 & 8 Band Performance
Jr. High Art Work Display
January 31,2018
7:00 P.M.
Division News